First come, first served. So goes a famous saying, and so it goes when it comes to featuring the first restaurant to participate in Euphrosine Season. Thus we found ourselves in the courtyard at Bayona, shooting the suave and sophisticated Pocket Square cocktail by Robby Farmer.
The Pocket Square includes Euphrosine Gin #9, Neige Apple ice wine from Canada, La Quintinye Royal Vermouth blanc, fresh lemon juice, and lemon bitters. It's shaken hard and served with a twist of lemon peel and rimmed with lemon twist oil.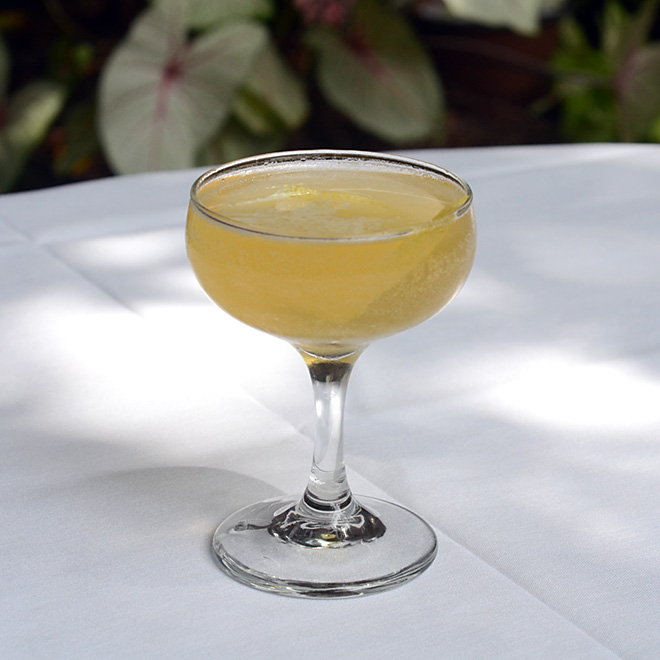 The Pocket Square
Just as a folded hankerchief is the perfect complement to a fine suit, a well-mixed cocktail is the perfect accessory to a meal; a great lead-in to sumptuous dining. This accessorizing of a beautiful meal with a classic cocktail explains why mixologist Robby Farmer likes to name his drinks after sartorial accessories.
The Pocket Square was created to highlight Euphrosine Gin #9 and to appeal to gin martini drinkers. It's refined, nuanced and elegant. It has the perfect balance of acid and sugar; and makes a great pairing with spicy seafood; fattier seafood such as salmon; or sweetbreads. The perfect lead-in to a bottle of wine, especially white wine.
Ready to participate in Euphrosine Season? Send us your review of the Pocket Square and you're halfway to claiming your Euphrosine Season Founding Member T-Shirt! See our Euphrosine Season page for additional details.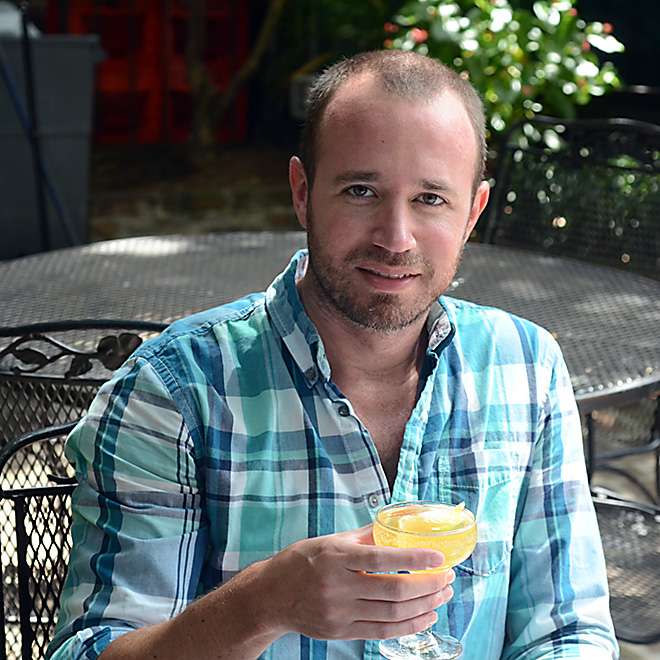 Robby Farmer with the Pocket Square in the courtyard at Bayona.
Coming next: Bayou Sunset from Pearl Wine Bar.