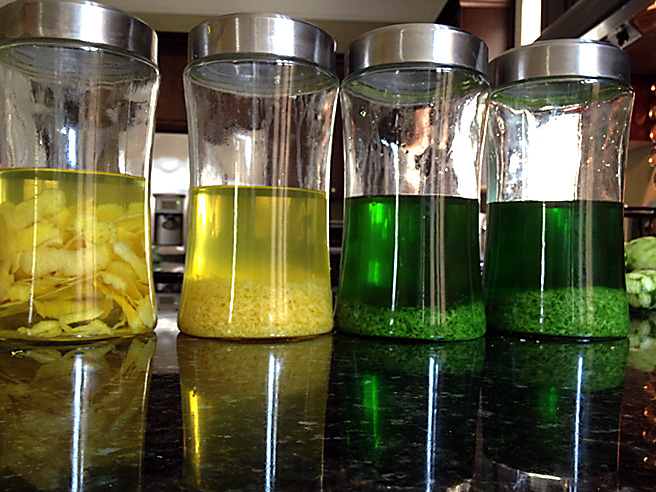 This limoncello recipe is time-consuming and worth it. The extra infusion time gives the limoncello more intense flavor. (Limoncello shown at left, limecello on right.)
Pour 1 bottle of Buck 25 "Professional Infusion Grade" Vodka into a glass jar with at least 1.5 liters capacity and a sealable lid.
Zest or peel 10-15 lemons (be sure not to get much pith) into the jar and put in a dark cool place, like the back of the closet.
Let sit ~40 days (in a hurry you could probably get away with a week-10 days). Shake the jar every other day or so. Tasting the infusion along the way will let you know when it has the lemon flavor you want.
When the flavor is ready, make a very weak simple syrup of 2.5 cups of water and 1.75 cups of sugar. If you want it sweeter just add more sugar.
Let your simple syrup cool to room temperature and add to the infusing lemons and send it back to the closet.
Another few weeks back in the hole (3-4+ weeks) will allow the sweetness and the alcohol to fully integrate. Again, regular tastings will let you know when you are ready.
Once you're happy with the flavor, strain out the lemon through cheesecloth.
Rebottle the limoncello and stick in the freezer.
Enjoy!