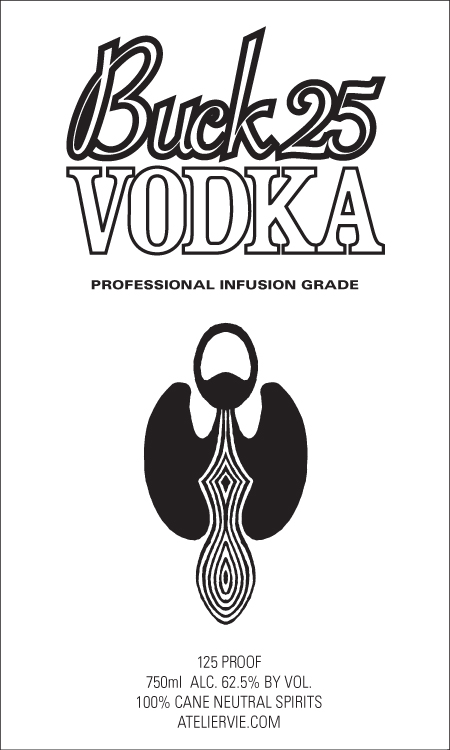 Introducing: BUCK 25
New Orleans, September 20, 2012. Atelier Vie announces today the immediate availability of Buck 25 Vodka. Buck 25 is a 125 Proof "Professional Infusion Grade" Vodka. (62.5% Alc/Vol) Buck 25 is triple filtered and bottled by Atelier Vie at their Mid City Liquor Studio. Celebrating Atelier Vie's commitment to providing a greater variety of indigenous liquor, Buck 25 is New Orleans' first modern vodka.
Secret Ingredient
Buck 25 is a "secret ingredient" for chefs and bartenders. A way to infuse faster and with more intense flavor. The higher alcohol content of Buck 25 helps speed prep time for busy chefs and bartenders.
Pour Longer
For bartenders in particular, Buck 25 provides the equivalent of over 1 liter of 80 proof vodka. Bartenders only need 2/3 of the normal pour for cocktail mixing. This means bartenders can pour longer before needing another bottle.
Add More Flavor
Creative mixologists can make drinks with more flavor ingredients, while maintaining the desired final strength for their cocktails. "Overproof" Buck 25 can be diluted to a greater degree than regular strength vodka, while retaining sufficient proof for drinking.
The Company
Atelier Vie was founded in 2011 to provide a greater variety of local spirits. Bringing together a shared love of craft spirits, coupled with a DIY attitude, Atelier Vie is pleased to introduce New Orleans to Buck 25.
Contact:
Jedd Haas
We Tweet, Therefore We Are
Let's Be Friends on Facebook
Brand Spokesman Buck 25 is on Twitter
Distribution:
George Brown
Vino Wholesale
504-952-2832