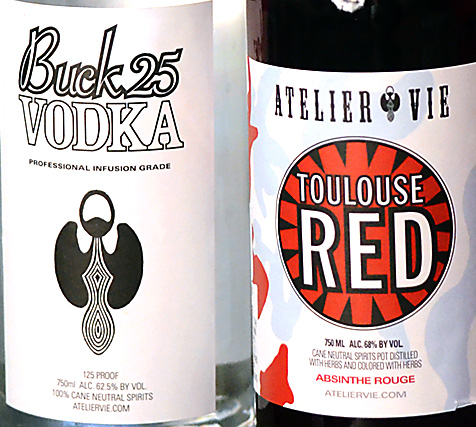 Visit us during our Bottle Sale hours, on the weekends of January 19-20 & 26-27. Please note that visits at all other times are by appointment only.
Hours: 10am to noon, Saturday and Sunday.
Available: Toulouse Red 136 proof red absinthe, $60. Buck 25 "Professional Infusion Grade" 125 proof vodka, $30. Both products are 750ml. All sales taxes are included in these prices.
Read our "Visit" page for full details and directions.
Atelier Vie spirits are also available at Pearl Wine, 3700 Orleans Ave., New Orleans; Dorignacs, 710 Veterans Blvd., Metairie; and many other retail outlets. See our full list of retail locations.