A few weeks back, while visiting a local barbecue joint, the manager asked if we could help develop a cocktail that would be complementary to their barbecue. Never one to shy away from a challenge, we took the matter in hand with some initial ideas from our discussion.
We had discussed the great affinity of Euphrosine Gin #9 Barrel-Finished Reserve and ginger; one go-to cocktail we have enjoyed a number of times is a mix of equal parts Barrel-Finished Reserve and ginger beer, along with a squeeze of lemon, on the rocks. With this tasty combination as an initial inspiration, we prepared an infusion of Barrel-Finished Reserve with ginger and a seasonal ingredient.
When thinking of barbecue, one complementary idea is to use a flavor unlike the main course. With this idea in mind, and the summertime upon us, peaches came to mind. So it came to pass that we infused a peach, some ginger, and a bottle of Barrel-Finished Reserve.
The result was spicy with a ginger kick and the peach in the background. A future variation might change the recipe to two or three peaches, plus the ginger. A barbecue aficionado might even put the peaches in the pit for some char and smoke as well.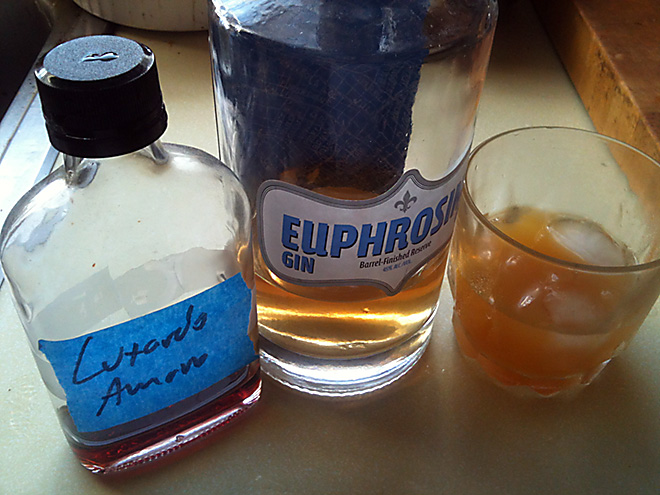 Peach-Ginger Barrel-Finished Reserve Infusion
Ingredients:
1 bottle Euphrosine Gin #9 Barrel-Finished Reserve
25 grams ginger, peeled and cut into medium dice
1 peach, cut into large chunks (discard the pits, leave skin on)

Method:
Add all ingredients to a mason jar and infuse for 1 week, or to taste. After infusion is complete, drain the liquid through a strainer and back into the bottle. Add a label to the bottle to identify properly.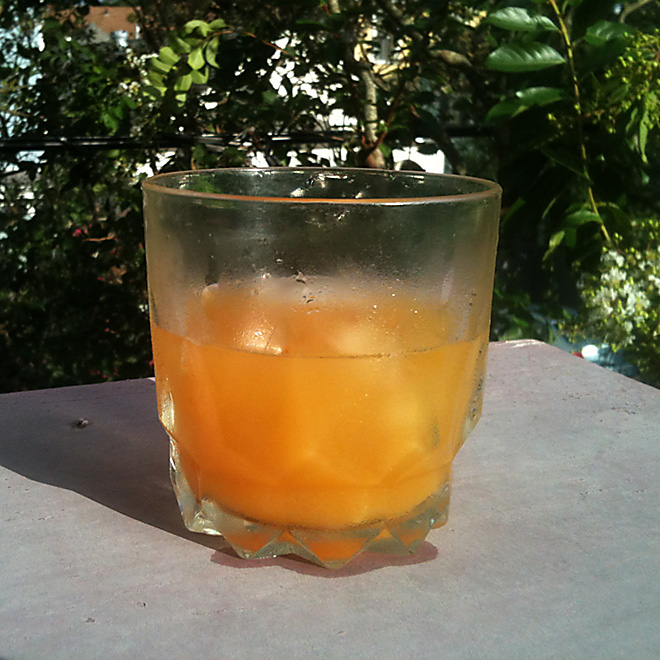 Now that you have this base ingredient, it's time to make cocktails!
After a few false starts and interesting experiments, inspiration struck.
Laranjinha Cocktail
Ingredients:
2 ounces Barrel-Finished Reserve infusion
Juice of one small orange
1/2 ounce Amaro (dealer's choice)

Method:
Add ice to a rocks glass; add all ingredients and stir gently.
(The name Laranjinha means "orange" in Portuguese)