January 15, 2019 — New Orleans. Atelier Vie announces three new releases: Riz, an aged rice whiskey; a special "El Jefe" edition of Orphan Street Brandy; and new brand Calio Rum.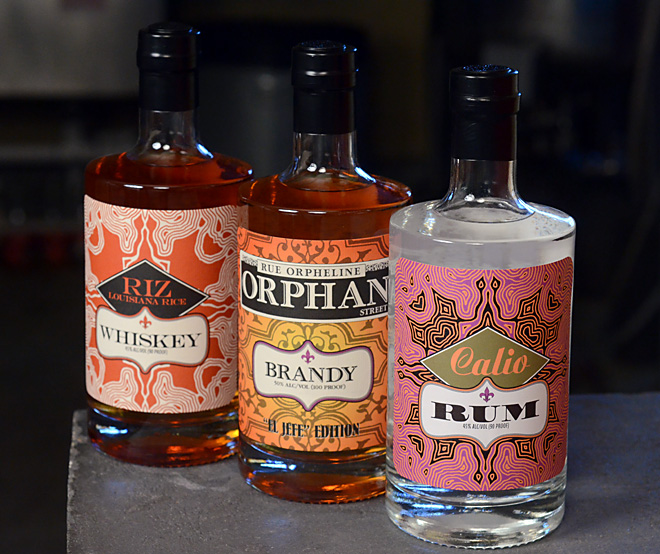 Calio Rum
Calio Rum is a pot distilled clear rum made entirely from Louisiana molasses. No additional sugar is added to Calio, either during fermentation, or after distillation. No coloring or flavoring is added. Calio has not been filtered, to ensure no flavor is removed.
"The result? Calio is full of deep molasses flavor. For people who want to taste the true terroir of Louisiana molasses, Calio will be ideal," said Jedd Haas, President of Atelier Vie.
Calio Rum is bottled in 750ml at 90 proof. The retail price at the distillery is $35, which includes all of our notoriously high sales taxes. Calio Rum is also in stock for wholesale purchase from our Louisiana distributor, International Wine and Spirits.
Original Louisiana Rice Whiskey
Riz, the original Louisiana Rice Whiskey, was first released in 2013 as a clear whiskey; the first aged edition of Riz followed in 2014. Today, Atelier Vie releases a bottling of Riz distilled in 2017 and aged in small oak barrels for one year and one month.
"Interest in rice whiskey has been increasing in the United States over the past five years. Several new distilleries around the country have released rice whiskies; and more releases have come from Japan. Atelier Vie is proud to distill not only the original Louisiana rice whiskey, but also the first whiskey overall in Louisiana since Prohibition. This new release of Riz is a great continuation of our Louisiana whiskey tradition," said Jedd Haas, President of Atelier Vie.
This edition of Riz is bottled in 750ml, at 90 proof. Retail price at the distillery is $65, including taxes. Purchases at the distillery are limited to one bottle per customer.
Orphan Street Brandy "El Jefe" Edition
Orphan Street Brandy was first released in 2016. Since then there has been a second release in 2018. These previous releases of Orphan Street Brandy have been at 80 proof in 200ml bottles. Now in 2019, Atelier Vie releases a full size bottle at a higher proof.
This new "El Jefe" edition of Orphan Street Brandy comes in a 750ml bottle at 100 proof and has been aged two years.
"Our grape brandy is aged for two years, as required to call it 'brandy.' During that time, we lose the 'angel's share' to evaporation. In the small barrels we use for brandy, this loss is severe after two years. But this loss results in a wonderfully concentrated spirit flavor. The result is a special bottling from a single barrel. 'El Jefe' stems from a nickname given to me in years past, meaning 'The Boss.' This brandy is for those who have paid the cost to be the boss," said Jedd Haas, President of Atelier Vie.
The "El Jefe" edition of Orphan Street Brandy is limited to 18 hand-numbered bottles and is $100 plus sales taxes at the distillery. Purchases at the distillery are limited to one bottle per customer and prospective customers may be asked to testify to the veracity of their boss status to qualify for purchase of this bottle.
Special Tasting at the Distillery
Atelier Vie will hold a special tasting on Friday, February 1st, from 6pm-8pm, as part of the "First Friday" series of events at Art Egg Studios, where the distillery is located. First Friday includes art openings and open studio events with other Art Egg inmates.
Visiting Hours at the Distillery
All of the new releases will be available during Atelier Vie's regular Bottle Sales Hours. The distillery is open for tastings and discussion of the distillation process every weekend from 10-2 on both Saturday and Sunday. There is no charge to visit the distillery and the company's full line of spirits is available for retail purchase during these weekend hours. Visitors should see the company web site for directions and additional details.
Real New Orleans Spirits
In addition to Riz, Orphan Street Brandy, and Calio Rum, Atelier Vie distills Euphrosine Gin #9, a flavorful American gin; and also distills a barrel-aged version of Euphrosine, called Barrel-Finished Reserve, which is aged in American whiskey barrels. The Atelier Vie line-up also includes Toulouse Green, Absinthe Verte, a traditional-style absinthe based in part on French recipes from the 1800s and distilled with Louisiana wormwood; and Toulouse Red, Absinthe Rouge, a "new school" American absinthe colored red with hibiscus and excellent for cocktail mixing. Atelier Vie also bottles Buck 25 Vodka; an overproof cane vodka designed for creative mixologists to craft their own spirits flavors through rapid infusion.
The Company
Atelier Vie creates flavorful new spirits in one of the greatest drinking cities of the world. "Liquor is art you can drink." Atelier Vie was founded in 2011 by Jedd Haas.
Contact:
Jedd Haas
504-534-8590 (distillery line, leave message)
jedd@ateliervie.com
@AtelierVie (twitter)
@AtelierVie (instagram)
-30-