During these torrid days of summer, minor details can escape notice due to a focus on more essential quests for such necessities as air conditioning and water. For some such reason, our media mentions have piled up. So let's get down to press hits from a variety of sources.
Most recently, newly-launched "locals-only" site Very Local New Orleans profiled Atelier Vie in this video montage and article showing the distillery and discussing our outlook on spirits production. Additionally, there's a great visualization at the end of the video showing how to make our Laranjinha cocktail – a great choice for hot weather!
Meanwhile, in the virtual pages of Chowhound, David Watsky takes a deep dive into How Once-Illegal Absinthe Became a New Orleans Staple.
Watsky delves into the origins of absinthe and how it became popular in the late 1800s. He also provides a counterbalance to some of the more ridiculous claims about absinthe, by providing an opportunity for a rebuttal to these frivolous stories.
""Wormwood has about as much neurotoxins as caffeine," Haas chuckles, "and it would take as much of it as it would caffeine to kill you or even make you sick. People weren't hallucinating," he tells me, "they were just drunk. Don't forget this stuff was 160 proof in some cases. If they were getting sick, it was from drinking cheap versions laced with toxic additives like copper to cover up poor taste and fix color."
The article also includes an interview with our friend Paul Gustings and touches on the Galerie d'Absinthe at the Southern Food and Beverage Museum.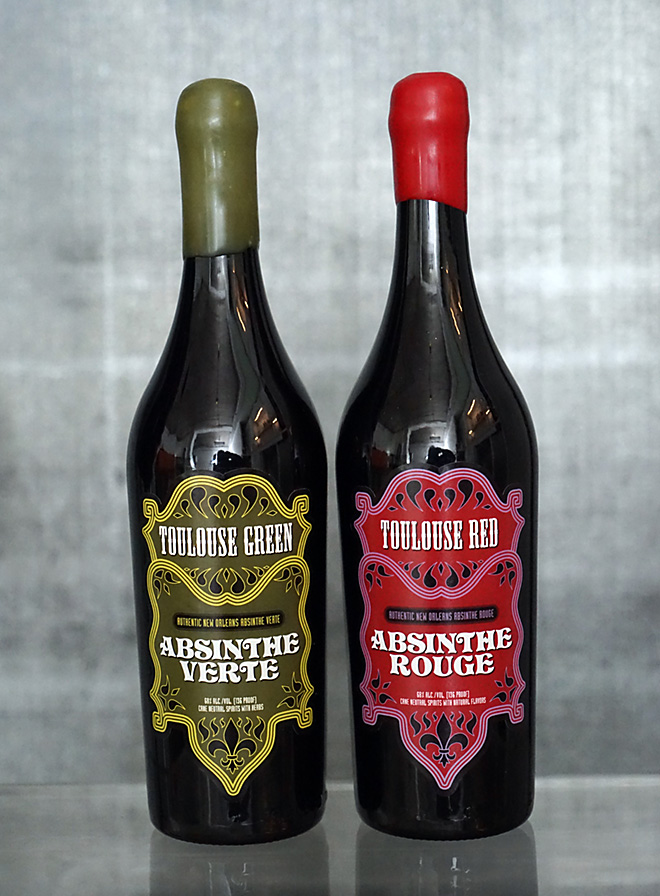 Toulouse Red and Toulouse Green, available widely and featured in the Galerie d'Absinthe as well!
Expanding our international relations, we enjoyed a visit from Tom and Becky from The Gin Blog, a UK site dedicated to – you guessed it – gin, in its many permutations. Tom and Becky kicked off their World Tour of gin distilleries with a visit to Atelier Vie, and wrote a nice article about their visit.
But the best was yet to come, as they brought a bottle of Euphrosine Gin #9 with them as they continued their journey. That resulted in this shot of their well-traveled bottle resting on the beach of one of the Cook Islands.

Photo credit: The Gin Blog
Finally, Atelier Vie is profiled in GoNola's article on the aptly named Maker's Mile, where a variety of local food and beverage businesses have sprouted up in recent years.