April 17, 2018, New Orleans — Atelier Vie is pleased to announce that we have won two Gold Medals in the San Francisco World Spirits Competition, one of the oldest and largest spirits competitions in the world.
Euphrosine Gin #9 won a Gold Medal and Euphrosine Gin #9 Barrel-Finished Reserve also won a Gold Medal.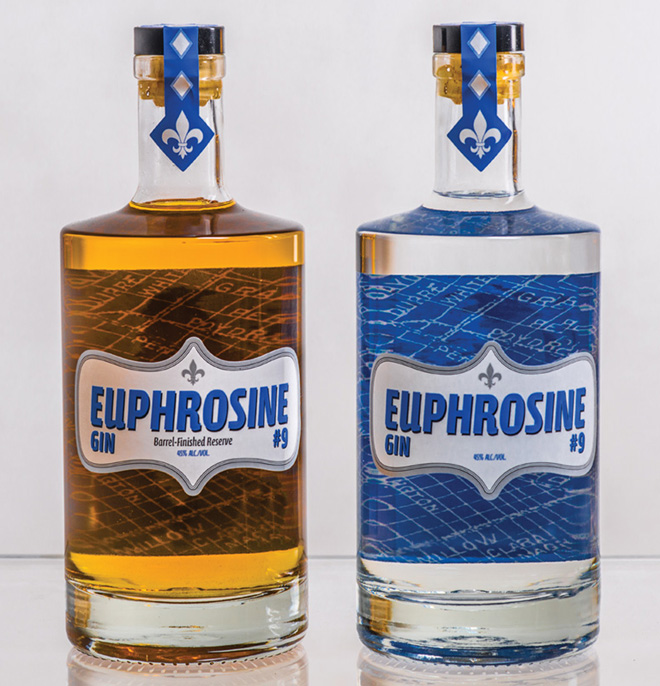 Photo Credit: J.R. Thomason
This year's competition was the largest ever, with over 2,200 entries. "Atelier Vie went head-to-head against spirits from around the world with no restrictions on entries. Competitors included the largest spirits companies in the world. The fact that we triumphed at this level of competition shows the excellence of our spirits," said Jedd Haas, President of Atelier Vie.
"The San Francisco competition is one of the best-known spirits competitions in the world and we're pleased to bring home two gold medals to New Orleans. We're honored to receive recognition of this caliber from such an established and serious competition," Haas continued.
Multiple Gold Medals for Euphrosine Gin #9
In addition to this most recent win, Euphrosine Gin #9 has also previously received a Gold Medal from the American Distilling Institute (ADI), a Best of Category from ADI, and a Gold Medal from the American Craft Spirits Association (ASCA).
Atelier Vie's Spirits & Distribution
Euphrosine Gin #9 is a flavorful American gin. It's excellent for cocktail mixing and some gin aficionados have declared it worthy of drinking neat. Euphrosine Gin #9 Barrel-Finished Reserve is aged for nine months in American whiskey barrels, giving birth to a new spirit that Atelier Vie describes as "the sipping gin." Both versions of Euphrosine are bottled at 90 proof in 750ml bottles.
In addition to distilling Euphrosine Gin #9 and Euphrosine Gin #9 Barrel-Finished Reserve, the Atelier Vie line-up also includes Toulouse Green, Absinthe Verte, a traditional-style absinthe based in part on French recipes from the 1800s and distilled with Louisiana wormwood; Toulouse Red, Absinthe Rouge, a "new school" American absinthe colored red with hibiscus and excellent for cocktail mixing, and Orphan Street Brandy, a two year old brandy distilled from "orphan" lots of wine. Atelier Vie also bottles Buck 25 Vodka; an overproof cane vodka designed for creative mixologists to craft their own spirits flavors through rapid infusion.
Atelier Vie's spirits are available to retailers throughout Louisiana from International Wine & Spirits of Louisiana; and select spirits are also available in Mississippi, Texas, Illinois, Indiana, and California. Orphan Street Brandy is produced in limited editions and is only available at the distillery.
Bottle Sales Hours at the Distillery
The distillery is open for tastings and discussion of the distillation process every weekend from 10-2 on both Saturday and Sunday. There is no charge to visit the distillery and the company's full line of spirits is available for retail purchase during these weekend hours. Visitors should see the company web site for directions and additional details.
The Company
Atelier Vie was founded in 2011 by Jedd Haas. Inspired by our renowned culinary culture, Atelier Vie creates flavorful new spirits in one of the greatest drinking cities of the world. Our motto: "Liquor is art you can drink."
Contact:
Jedd Haas
504-534-8590 (distillery line, leave message)
"Real New Orleans Spirits" is a registered trademark of Atelier Vie, LLC.
-30-