Our series of fall bottlings culminates with an unusual new spirit. Crosstown Traffic was distilled from beer brewed by our neighbors Zony Mash. This first edition of Crosstown Traffic was made from two beers: a hoppy Imperial Pale Ale (IPA) and a coffee-flavored porter.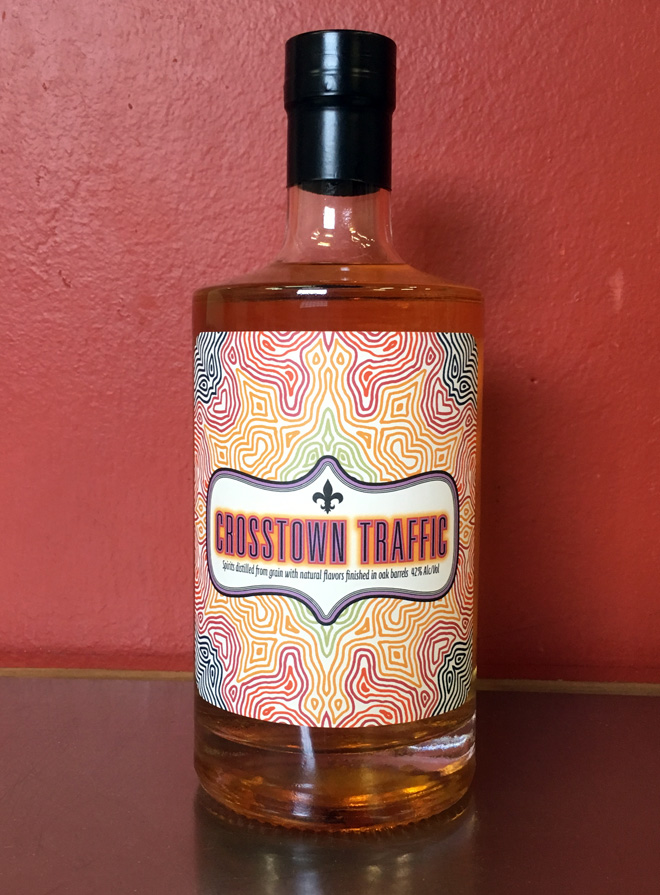 The spirits were double pot distilled and aged in a pair of five gallon oak barrels for a minimum of one year. After aging the spirits were blended and brought to proof with pure water. No flavorings were added and no chill filtration was performed.
How does it taste? Like whiskey* infused with pungent hops aroma while mellow coffee notes lurk in the background. To use the terminology associated with the IPA that it was distilled from, the flavor has concentrated "fluffiness" which is a new term for a different beer marketing word that is "played out" and thus won't be mentioned.
But don't just take our word for how it tastes. Zacc Olivieri, who is a long-time aficionado of our spirits, happened to be in the right place at the right time, and snagged the very first bottle sold. Here is what Zacc had to say after some initial tasting.
"It's pretty damn tasty. Trying it with ice next, but somehow the smoothness of the coffee and the piney-ness of the hops come together and create a chocolate sweetness that somehow goes just right with the creaminess of the spirit. The mouth feel reminds me of Zubrowka Bison Grass Vodka in the best way possible. Insanely unique and downright f***** tasty, my friend. Great job."
After trying Crosstown Traffic neat, Zacc also tried it on ice.
"Once the ice lets it breathe the bite diminishes and that velvety sweetness overtakes. This is really interesting now."
Crosstown Traffic is bottled in 750ml at 42% ABV (84 proof). A total of fifty two bottles were produced. Due to the small size of this first edition, Crosstown Traffic is only available at the distillery. Crosstown Traffic and all of our spirits can now be purchased through our online store for no-contact payment. Pick up by appointment at the distillery.
*In the eyes of the law, this is not whiskey. Using the word "whiskey" on the label is strictly forbidden by Federal Authorities. Technically, this is a Distilled Spirits Specialty. But you can call it whatever you like.
Our Free T-Shirt program continues! Through the end of the year, we're offering a free Atelier Vie T-shirt with every purchase over $100. Our newest T-shirt design features the Atelier Vie logo on the front and our motto, "Liquor is Art you can Drink" on the back. Printed in gold ink on a black t-shirt. These shirts are 100% cotton and super comfortable. Sizes available are S-M-L-XL-XXL. While supplies last, offer limited to one shirt per customer.