August 16, 2016 – New Orleans. Atelier Vie, home of Real New Orleans Spirits, is pleased to announce that the distillery has expanded distribution to Mississippi and has released an initial list of Mississippi retail accounts.
"Mississippi is right next door to Louisiana and we've been working on getting into Mississippi for a long time," said Jedd Haas, President of Atelier Vie. "We've had numerous visitors from Mississippi come to the distillery over the years. They all ask when they'll be able to buy our spirits at their local stores. We're pleased to inform all our friends in Mississippi that the time is now," Haas continued.
First "Control" State for Atelier Vie
While distribution in many states, including Louisiana, is handled by private distributors, Mississippi is a "control" state where the state purchases and distributes spirits to private retailers. Atelier Vie has appointed Steve Tonore & Associates as their Mississippi broker to solicit orders from retailers. All Atelier Vie spirits are now available from the Special Order Desk of the Mississippi ABC.
Initial Mississippi Retail Outlets
The first stores in Mississippi carrying Atelier Vie spirits include:
• Bulldog Package Store, 301 Mississippi 12, Starkville
• Ferdie's Discount Wine & Liquor, 721 Hwy 19 N., Meridian
• The Liquor Store, 2080 S. Frontage Rd., Vicksburg
• Maisano's Fine Wine & Spirits, 1622 Bienville Blvd., Ocean Springs
• McDade's Wine & Spirits, 1220 E. Northside Dr., #320, Jackson
• Village Package Store, 1805 Lelia Dr., Jackson
• Vintage Wine Market, 1000 Highland Colony Pkwy., Ridgeland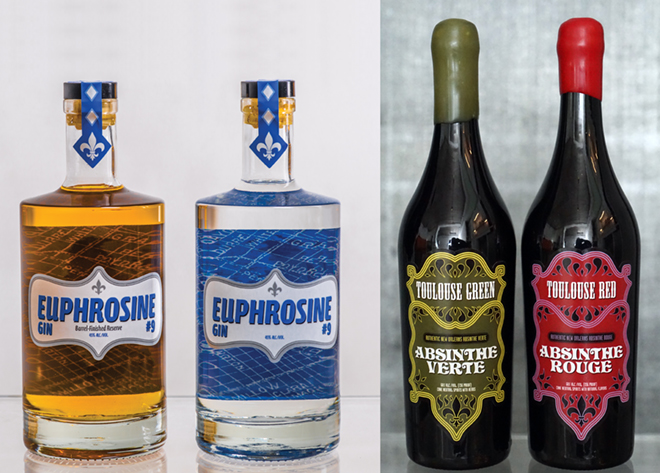 Photos by JR Thomason and Brian Perkins
Atelier Vie's Spirits
Atelier Vie distills Euphrosine Gin #9, a flavorful American gin; and also distills a barrel-aged version of Euphrosine, called Barrel-Finished Reserve, which is aged in American whiskey barrels. The Atelier Vie line-up also includes Toulouse Green, Absinthe Verte, a traditional-style absinthe based in part on French recipes from the 1800s and distilled with Louisiana wormwood; and Toulouse Red, Absinthe Rouge, a "new school" American absinthe colored red with hibiscus and excellent for cocktail mixing. Atelier Vie also sells Buck 25 Vodka; an overproof cane vodka designed for creative mixologists to craft their own spirits flavors through rapid infusion.
Visiting Hours at the Distillery
The distillery is open for tastings and discussion of the distillation process every weekend from 10-2 on both Saturday and Sunday. There is no charge to visit the distillery and the company's full line of spirits is available for retail purchase during these weekend hours. Visitors should see the company web site for directions and additional details.
The Company
Inspired by our renowned culinary culture, Atelier Vie creates flavorful new spirits in one of the greatest drinking cities of the world. "Liquor is art you can drink." Atelier Vie was founded in 2011 by Jedd Haas.
Contact:
Jedd Haas
504-534-8590 (distillery line, leave message)
jedd@ateliervie.com
"Real New Orleans Spirits" is a registered trademark of Atelier Vie, LLC.
A high resolution version of the image included in this release is available for print use on request.
-30-