October 8, 2014, New Orleans — Atelier Vie is pleased to announce the release of the first bottling of Barrel-Aged Riz, Louisiana Rice Whiskey. Riz already has the distinction of being the first Louisiana whiskey released since Prohibition; an unaged version was released June 28, 2013. Now Atelier Vie has added to this achievement with the first release of Barrel-Aged Riz.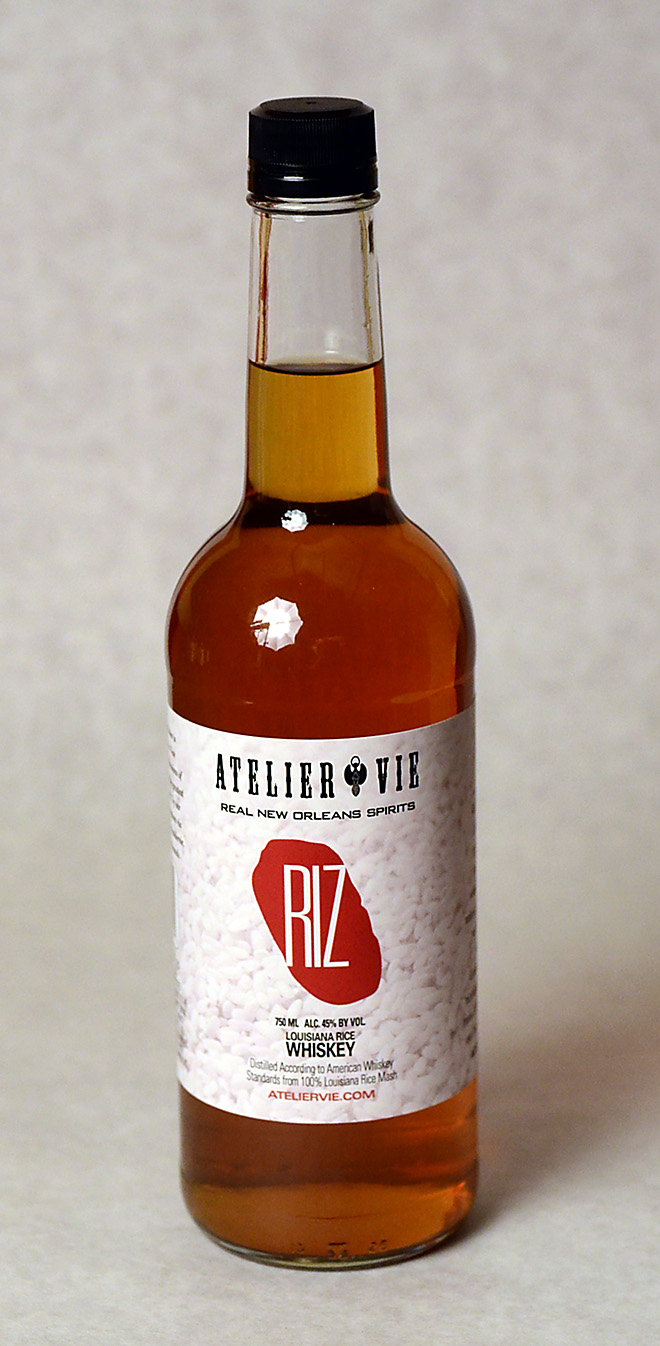 The Riz Story
"The idea of Rice Whiskey was a key inspiration for my becoming a distiller," said Jedd Haas, President of Atelier Vie. "I first heard about rice spirits being produced in Asia years ago; given the abundance of Louisiana's rice crop, it seemed like an obvious resource for making a new style of American whiskey. We mashed and pot-distilled our first batches of Riz in 2012; and we released the unaged version of Riz in 2013. This clear 'moonshine style' Riz was smooth and tasty, but we suspected an aged version would be even better. After over a year in the barrel, this first release of Barrel-Aged Riz has exceeded expectations," Haas continued.
Barrel-Aged Riz
The first barrel of Riz was filled on September 3, 2013; one year and one month later, on October 4, 2014, the barrel was emptied and the amber-colored whiskey was proofed down to bottling strength of 90 proof (45% ABV) and bottled. The label includes an age statement of "aged one year and one month." Riz is handcrafted by Atelier Vie in New Orleans from 100% Louisiana rice, which is mashed, fermented, and distilled at our distillery in Mid-City.
Available During Bottle Sale Hours at the Distillery
This initial release of Barrel-Aged Riz is only available at the distillery during Atelier Vie's Bottle Sale Hours, from 10am to 2pm on weekends. The retail price at the distillery is $60 for a 750ml bottle of Barrel-Aged Riz and due to the limited quantity being released, there is a limit of one (1) bottle per customer. Visit ateliervie.com/visit for maps and directions.
The Company
Inspired by our renowned culinary culture, Atelier Vie was founded in 2011 to create flavorful new spirits in one of the greatest drinking cities of the world. Bringing together a shared love of craft spirits, coupled with a "do it yourself" attitude, Atelier Vie is pleased to release this initial bottling of Barrel-Aged Riz to the drinking public of New Orleans.
Contact:
Jedd Haas