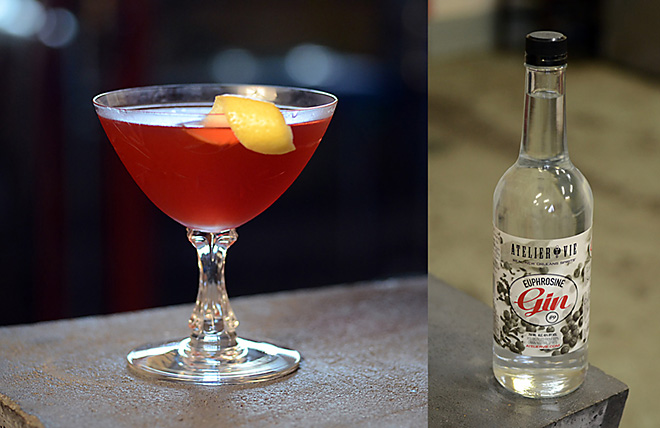 Introducing: Euphrosine Gin #9
November 25, 2013, New Orleans. Atelier Vie is pleased to announce the release of Euphrosine Gin #9. Inspired by the spirit of mirth and a street alongside the distillery, the story begins with a question of identity. The essence of gin is juniper, but beyond this essential ingredient, a blend of diverse elements builds the flavor. Euphrosine Gin #9 is pot-distilled in small batches from nine herbs and botanicals. What is the result?
"Euphrosine is a bold American-style gin with a well-balanced flavor profile," said Jedd Haas, President of Atelier Vie. "It's the result of a lengthy creative process to develop our version of this classic spirit. Our goal has been to create a greater variety of locally-produced spirits; with Euphrosine Gin #9, we've expanded our portfolio and created a new expression of gin for New Orleans," Haas continued. Euphrosine Gin #9 is distilled by Atelier Vie in Mid City and bottled at 90 proof in 750 milliliter bottles.
Bottle Sale Hours at the Distillery
Euphrosine Gin #9 and the full line of the company's spirits will be available at the distillery during Atelier Vie's weekend Bottle Sale Hours: Saturday & Sunday, 10-4. The retail price at the distillery is $30 for a 750ml bottle of Euphrosine Gin #9. Directions to the distillery. (Don't trust GPS!)
The Company
Atelier Vie was founded in New Orleans in 2011 to create new expressions of indigenous liquor. Bringing together a shared love of craft spirits, coupled with a "do it yourself" attitude, Atelier Vie is pleased to release Euphrosine Gin #9 to the drinking public of New Orleans and parts beyond.
In addition to Euphrosine Gin #9, Atelier Vie's spirits include Toulouse Red, a "new school" American red absinthe; Toulouse Green, a traditional-style green absinthe; RIZ, Louisiana Rice Whiskey; and Buck 25 "professional infusion grade" Vodka. Atelier Vie's spirits are available in Louisiana, Arkansas, Illinois, and Washington, DC.
The Red Devil (aka Diavolo Rosso – shown above)
1 part Euphrosine Gin #9
1 part Campari
1/2 part Lillet Rouge
1/2 part Toulouse Red, Absinthe Rouge

Stir with ice, strain and serve up or on the rocks with a lemon peel twist.