Introducing: TOULOUSE RED
December 5, 2012, New Orleans — On Prohibition Repeal Day, a day much celebrated in the drinking world, Atelier Vie announces the return of local absinthe to New Orleans, with the release of Toulouse Red. Atelier Vie is only the second distillery in New Orleans since Prohibition; and Toulouse Red is the first absinthe distilled in New Orleans since the
unjustified absinthe ban of 1912.
Toulouse Red is distilled with attention to both the classic methods of absinthe distillation and the innovations from more recent American absinthe trailblazing. Add in the local creativity and "do it yourself" attitude of Atelier Vie, and New Orleans has a brand new spirit: Toulouse Red.
"Toulouse Red was born in New Orleans, a new indigenous liquor. Our red absinthe is pot distilled with herbs, and infused with additional herbs to create the lush red color of Toulouse Red," said Atelier Vie's president, Jedd Haas.
Toulouse Red is bottled at the traditional 136 proof (68% ABV) and is produced from all natural ingredients. The classic method for serving absinthe, a dilution with ice water at ratios in the range of 3:1 to 5:1, produces a final drinking strength of about 23 to 34 proof (11.5% to 17% ABV) – about the strength of a strong wine.
Toulouse Red is available immediately at the distillery and through wholesale distribution. The retail price at the distillery is $60 for a 750ml bottle.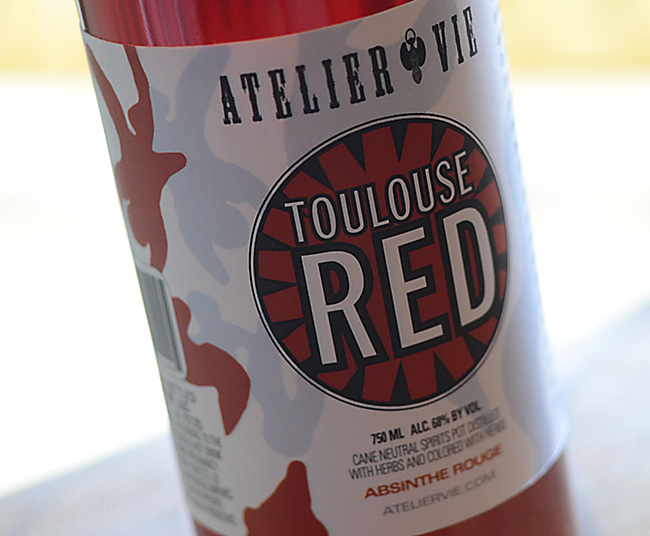 The Company
Atelier Vie was founded in 2011 to provide a greater variety of local spirits. Bringing together a shared love of craft spirits, coupled with a DIY attitude, Atelier Vie is pleased to unleash Toulouse Red on New Orleans. Arriving 100 years after the absinthe ban, she's worth the wait.
Contact:
Jedd Haas
We Tweet, Therefore We Are
Let's Be Friends on Facebook
Brand Spokesperson Toulouse Red
Distribution:
George Brown
Vino Wholesale
504-952-2832