May 18, 2015 – New Orleans. Atelier Vie, home of Real New Orleans Spirits, announces the release of the first Barrel-Aged Gin from Louisiana. This new gin expression is created from Atelier Vie's award-winning Euphrosine Gin #9 and is officially called Euphrosine Gin #9 Barrel-Finished Reserve. Both Barrel-Finished Reserve and the standard version of Euphrosine Gin #9 are being released in new packaging which reflects the premium nature of these spirits.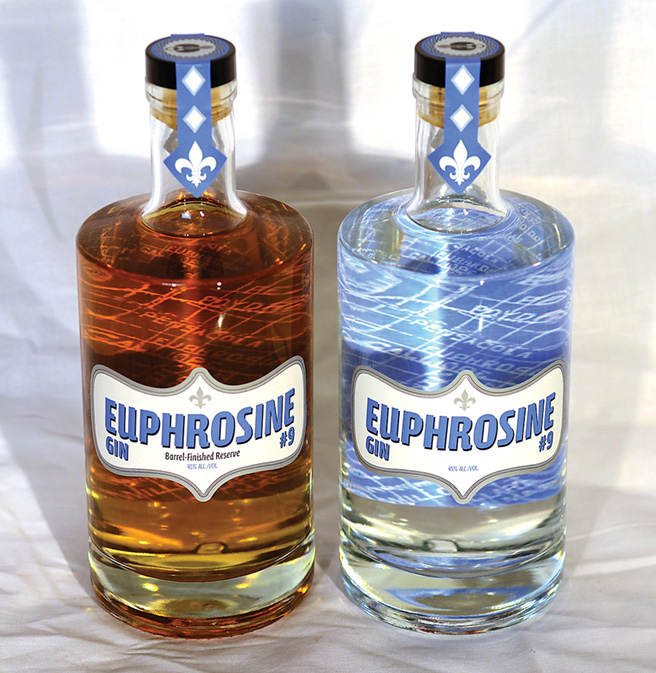 Barrel "Aged" vs. Barrel-Finished
"After your gin wins two gold medals in craft spirits competitions, what is the next step? For us, it was barrel-aging that same gin in second use American whiskey barrels. After months in the barrel, the gin picks up an attractive amber color and mellowed flavor with whiskey notes added to the gin," said Jedd Haas, President of Atelier Vie. "Interestingly, Federal law does not allow an 'age statement' on gin labels; they've begun enforcing this more vigorously recently. Therefore, we call this 'aged' version of our Euphrosine Gin #9 our 'Barrel-Finished Reserve' and make reference to 'casking' it in American oak whiskey barrels on the label," Haas continued.
New Look For Euphrosine
Both versions of Euphrosine are packaged in substantial glass bottles with embossed labels that showcase the brand name. The back labels include a historic New Orleans street map, which is visible through the front of the bottle. An observant eye will note the location of the distillery, at the intersection of Broad St. and Euphrosine St., on this map. The new bottles are also packed in six-pack cases. More Atelier Vie spirits will receive new packaging in the months ahead.
Introductory Tastings at Brady's Wine Warehouse & Pearl Wine Company
Craft spirits enthusiasts are invited to taste both versions of Euphrosine next week at Brady's Wine Warehouse and Pearl Wine Company. The tasting at Brady's, 1029 Oretha Castle Hailey Blvd., will be on Thursday, May 28, from 5-7pm. The tasting at Pearl, 3700 Orleans Ave., will be Friday, May 29, from 5-7pm.
Bottle Sales Hours at the Distillery
Euphrosine Gin #9 Barrel-Finished Reserve, along with the rest of the company's spirits, are available directly from the distillery during weekend Bottle Sales Hours. Visitors are welcome from 10-2 on Saturday and Sunday; visitors should see the company web site for directions. The new Barrel-Finished Reserve is bottled at 90 proof in 750 milliliter bottles and is available for $40 per bottle at the distillery. The standard version of Euphrosine is $30 per bottle.
Atelier Vie's Spirits & Distribution
In addition to the new Euphrosine Gin #9 Barrel-Finished Reserve, Atelier Vie's award-winning spirits include Toulouse Green, Absinthe Verte; Toulouse Red, Absinthe Rouge, and Euphrosine Gin #9, a full-flavored American gin which has earned multiple gold medals in national spirits competitions. The Atelier Vie line-up also includes Riz, Louisiana Rice Whiskey, the first Louisiana whiskey since Prohibition; and Buck 25 Vodka; an overproof vodka designed for creative mixologists to craft their own spirits flavors through rapid infusion. All spirits are available to retailers through International Wine & Spirits of Louisiana; and select spirits are also available in Arkansas, Illinois, and Indiana.
The Company
Inspired by our renowned culinary culture, Atelier Vie creates flavorful new spirits in one of the greatest drinking cities of the world. "Liquor is art you can drink."